PISTON FILLER
Our piston filler can be used for filing any kinds of non-carbonated product such as liquid, high viscosity product, sauce with small particle and fruit pulp by adopting different types of piston filling head in order to satisfy most ofrequirements from different industry.
TOOL-FREE CHANGE OVER
In order to save the change-over time and increase the machine efficiency, the piston filler and cap presser are designed with a tool-free change-over system for easy operation even for the beginners.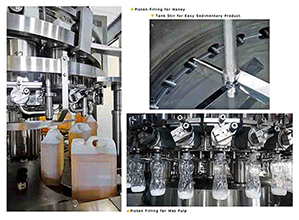 NO DRIPPING
The special sharp cut design enables the piston filling valve to close completely after filling and keeps the neatness on the container surface.
BEST HYGIENE
In order to prevent the product from being contaminated, the bottling system is completely covered with stainless steel. Also, to keep the cleanness of the ground, this system is equipped with watercolleting trough which collects and discharges the filling content or cleaning liquid into sewer.
INCREASE EFFICIENCY
Bottle rinsing, filling, and capping, three functions are connected perfectly.
Our three in one bottling system minimizes the space needed and reduces energy consumption and pollution caused.
Connecting the three units closer to each other also decrease the situation of bottle falling, which enable the system to perform stably under high speed production and further improves hygiene quality and manufacturing efficiency.
Beverage Canning Lines / Beverage Bottling System